U.S. Navy – Lead Processing Optimization
Turning a 7-day lead-processing timeline into a 7-minute procedure called for business process optimization and smart staffing.
With hundreds of leads coming in daily from multiple channels, the Navy Recruiting Command needed a partner to find the most qualified prospects and deliver them quickly and efficiently. There's a rule in recruiting: The first to contact is the first to contract. Disconnected systems, complicated data hand-offs and weekends constantly threatened to keep recruiters from being the first to call.
By examining the user journey and then taking a closer look at the hoops all that user data had to make it through, iostudio determined that a custom contact center module (CCM) platform would make an enormous difference. When contact center operators have everything they need at their fingertips, they can have a meaningful conversation with a prospect and then immediately connect them with a recruiter.
Giving prospects one-click or one-call resolutions increased conversion rates dramatically. Optimizing lead processing shortened the timeline from 7 days (about 10,000 minutes, if you're counting) to 7 minutes. Instead of waiting a week for a call back, a potential Sailor could chat with an operator to get their initial questions answered and then be transferred immediately to their local recruiter.
We never forget that callers are making a life-changing decision.
While we can't overestimate the advantage of having our database ducks in a row, it's effective staffing that keeps the process moving. iostudio hires subject matter experts (veterans, currently serving military personnel and military family members) to chat with leads in our military contact centers. Our SMEs understand the motivation to serve and recognize every step on the path to enlistment.
Specialty recruiting for the Navy involves finding and contracting candidates with specialized skills—identifying prospects who are both qualified and willing to go into public service rather than private practice.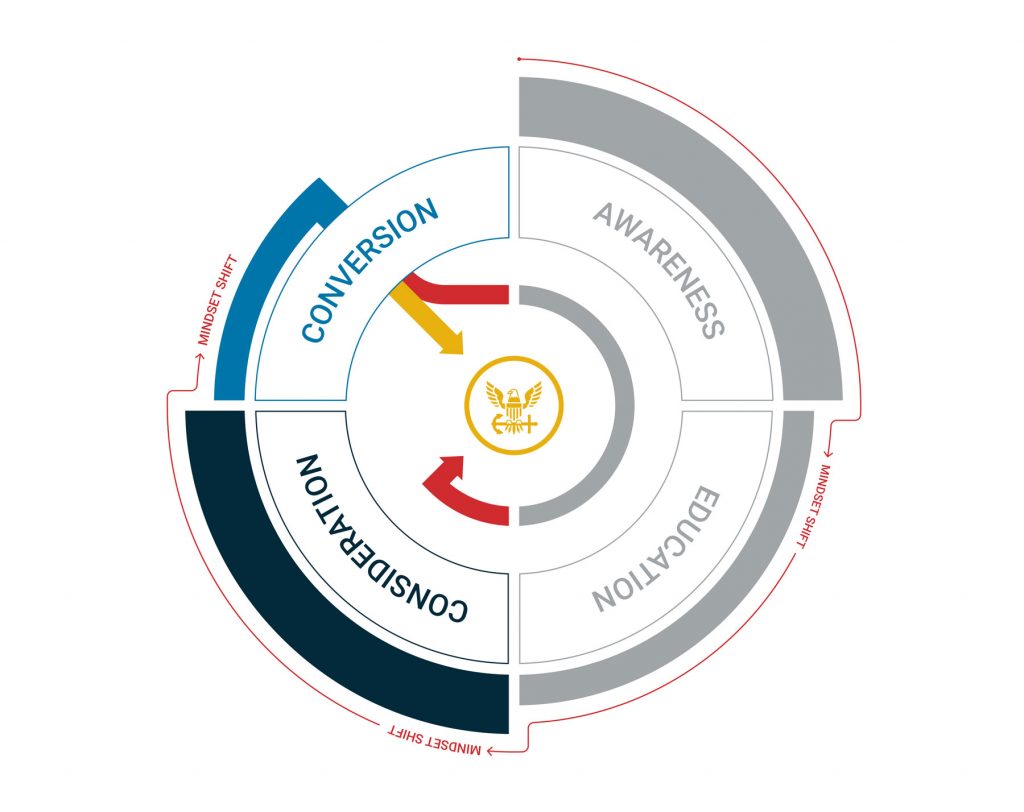 We're always looking for ways to refine and polish our processes.
Optimizing each step, from hiring representatives with subject matter expertise to being able to prequalify leads and instantly connect them with their local recruiter, shortens the timeline.
Custom CCM Platform
Organization, automation and functionality on the back end of the platform allowed for ease of use on the system's interface. A smooth user experience for operators means a more engaging, more meaningful and more effective experience for callers. That leads to a shorter timeline, and, consequently, a higher conversion rate.
Resume Mining
Our in-house resume mining specialist combs through information uploaded to civilian job sites and other provided sources, identifying potential candidates and conducting outreach to determine interest.
Regular, Thorough Reporting
Monthly reporting covers everything from speed of answer to call-back success rate. We track reasons for disqualification, voicemails left—even LinkedIn InMail response rates. How did specialty recruiting go last month? Have we got the answer to that question.
Prequalification for Specific Recruiting Needs
Another advantage afforded by database alignment was the ability to prequalify, or Blueprint, candidates. Blueprinting allows us to identify the leads most qualified in a particular field and connect them with a recruiter.
Direct Connects
If an operator finds a caller to be both qualified and interested, they can transfer the lead directly to their local recruiter. No wait.
Staffing of subject matter experts
Training on system updates
Direct Connects with recruiters
Database alignment
Custom contact center module platform
Extensive knowledgebase
Resume mining specialist
Brand engagement is where we live.
Our military lead-processing contact centers are prime examples of iostudio's capabilities when it comes to audience life cycle management. Precisely defining an audience, figuring out how to communicate with them, finding the right people to do it and then keeping the audience engaged—it's what we do best. We can do it for you, too.