While your audience is being held captive, captivate them. 
Now is not the time to socially distance from video production. In a time when everything feels disconnected, video connects.
We're all retooling how we sell in the pandemic and trying to fill the engagement gaps that COVID-19 has created between us and our customers. Strong video content is a powerful way to stay connected to consumers.
Video engages and converts like nothing else.
Being in the middle of a pandemic wasn't on our vision board for 2020, and it probably wasn't on yours, either. COVID-19 has impacted businesses of all sizes and pushed their operations into uncharted territory. Advertising campaigns have been halted, television shows are being produced from home and many businesses have been forced to move all sales online. 
Now more than ever, video content is an effective way to connect with customers and achieve your most crucial business objectives. 
Here are just two examples of how iostudio clients are putting the power of video to work right now.
1. Driving enrollment to sustain revenue goals
The impact of COVID on the school year is still unfolding. A university client of ours is facing declining enrollment and revenues due to COVID-related uncertainty. Being proactive, they're pushing out a new integrated marketing campaign centered around a video focusing on the community of learning that's only possible on campus.
2. Connecting with prospects to educate and convert
The Army National Guard has consistently relied on video to support its recruitment marketing efforts. Now that in-person recruiting in high schools and at events has been dramatically curtailed due to COVID-19, their video content has to work harder than ever. The Guard's new integrated marketing campaign, Take On Your Legacy, deployed engaging and powerful video content through every channel to help keep the recruiting pipeline filled.
The Legacy campaign, launched at the height of the pandemic, is already driving strong results.
In the first 30 days of the campaign, the data associated with the video and other social media spoke for itself:
3x more likely to convert

14x higher email CTRs

3x more live chats
Don't let the pandemic cause you to miss the engagement goals. Consider leaning on the power of video to stay connected with your consumers and to meet your year-end metrics.
Video motivates viewers at an emotional level, which is even more important when we're socially isolated.
Pre-COVID research by Hubspot found that 72 percent of customers would rather learn about a product or service through a video. Businesses who utilize video content get 66 percent more qualified leads annually than those who don't.
Online traffic has seen a huge uptick as everyone turns to social media and the digital sphere to connect with the world. Businesses can capitalize on the fact that 47 percent of consumers are watching more videos at home now because of COVID-19. 
At the start of the pandemic, brands began to focus on COVID-19 messaging, emphasizing that we are all in this together and thanking our frontline workers. It cultivated sentiment and acknowledged the uncertainty of the future felt by all. 
As the United States reopens in phases, businesses should pivot their messaging in a bold, original way to set themselves apart with their audiences.
Socially distanced video production is possible.
Video production obviously cannot operate as it did before COVID-19. But that doesn't mean you can't still make creative and engaging projects. Pandemic or no pandemic, video production has always presented unexpected challenges, so rethinking it on the fly because of COVID feels like business as usual. Recently, we had a helicopter cancel on us 18 hours from call time because the pilot's wife went into labor. 
The helicopter was set to be the focus of the shot. After a quick controlled freakout, we gathered ourselves, readdressed our resources and ended up getting two of them.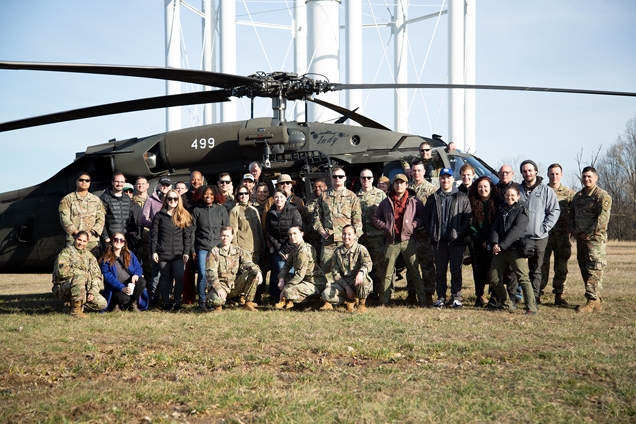 Call us masochists, but we often enjoy navigating obstacles and challenges. Being able to rise above them and make things work in your favor pushes us to learn new tricks. Nothing is more satisfying after you wrap than toasting with the client about how we kicked adversity's ass. 
Another good habit that's proved very handy during the pandemic is repurposing footage from past projects—especially the stuff that originally ended up on the cutting room floor. Knowing how to use stock footage properly is also an important skill. Believe it or not, there are good stock resources offering unique, beautifully shot pieces. 
With a strong script and thoughtful editing, you can tell amazing stories, like we did for our friends at Project Heart. Animation is another option, the best part being the only limitation is your imagination. If you can think it, we can create it. Another route we love is documentary-style storytelling, which lets us tell singular stories in an impactful way. It can move swiftly and requires only a small crew.
Expert planning makes video happen no matter the circumstances.
What if you want to create something new from the ground up? Full on-location shoot, cast, all the bells and whistles? We do that too. 
We recently wrapped a new branding campaign for a university client. They approached us in May 2020 with a need to create an institutional message promoting brand awareness, and it required a quick turnaround for various advertising campaigns. 
COVID-19 presented a few speed bumps during production, but nothing we couldn't solve. 
The final concept required 15 crew members and 13 cast members, and would be filmed both indoors and outdoors. Filmed from first-person point-of-view (POV), the 60-second spot shows hands working on the many disciplines students learn at the university: laboratory science, agriculture, design, veterinary science and more. 
The trick to getting a first-person POV while maintaining safe distance was a helmet rig worn by the talent (don't worry—we sanitized it before and after use). The rig gave us the intimate point of view the script called for and allowed us to produce a video from a unique perspective. The approach eliminated three aspects of production that can be particularly difficult with social distancing: hair, makeup and wardrobe.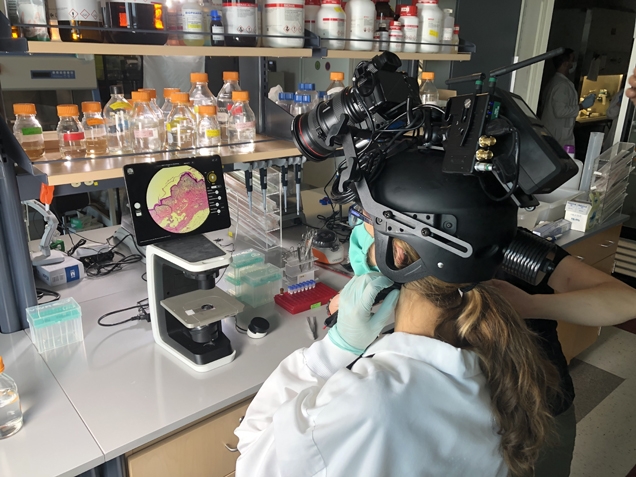 Set safety begins in pre-production.
We've developed set safety guidelines enforced by our producers to do our best to protect production crew and talent from transmission of the coronavirus. 
Using CDC guidance and recommendations from industry experts, our guidelines cover how to handle equipment, transportation, craft services, and hair and makeup, and include daily screenings and other health procedures. 
If you've ever been on a shoot before, you know that the set can often resemble a beehive. We knew that wasn't an option. Planning our shots (more meticulously than ever!) allowed us to have only the individuals who were absolutely necessary on set for each setup.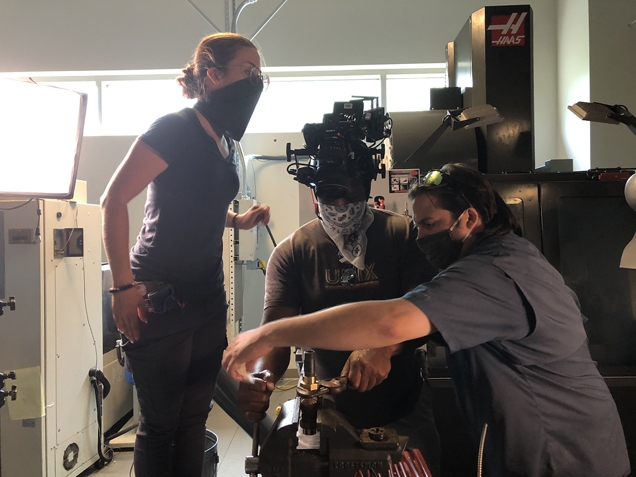 We also knew that setting up and breaking down the set would need to be more coordinated and methodical than usual. Filmmaking requires lots of people interacting in close proximity. Usually, everyone is in and out of one another's personal space, all day long. These days, everyone is mindful to ask a crew member's permission to get closer than 6 feet.
As part of the production's safety protocol, we brought along a non-contact infrared digital thermometer and multiple boxes of hand sanitizer, wipes and masks. The local crew were hired based on their willingness to comply with masking, safe distancing throughout the shoot and respecting others' personal space.
We also had a production assistant whose primary task was COVID-19 safety measures, ensuring procedures were followed and dispensing hand sanitizer every 75 minutes to crew and talent.  
The right partner is crucial.
With the Centers for Disease Control and Prevention continuing to encourage wearing of masks, social distancing and regular sanitizing of frequently touched surfaces, the idea of undertaking a new video could feel intimidating. But it's not impossible. You can still produce high-quality video marketing campaigns and stay safe. We know because we are doing it right now.
Now's the time to connect with a nimble, experienced partner to get your video projects rolling and keep your business growing. Our video team is always available to answer any questions and concerns you have regarding production as we navigate the New Normal.