NC State University – 'Hands of History' Commercial
Raising awareness of a university's forward-thinking resilience meant looking back at their accomplishments and communicating their strengths.
As a public land-grant research university—the largest, in fact, in the Carolinas—NC State is literally an institution. However, as a pandemic began to shut down everyday life in the first quarter of 2020, they recognized a need to remind current students, parents and prospective students of what it means to be a member of the NC State Wolfpack—especially if, for the foreseeable future, learning was going to take place outside the classroom.
A first-person POV commercial, "Hands of History," showcased NC State's long history, academic strengths and community spirit. It presented the NC State Wolfpack (the university's community of students, alumni, faculty and staff) as bold, hard-working innovators who are used to rolling up their sleeves every day—not just when they encounter a roadblock. And it fit right in with NC State's existing "Think and Do" campaign.
"Hands of History" played during televised sports events, including Division I football games. At a time when retention was top priority, the university received 31,000 applications for Fall 2020—right in line with 2019 numbers.
The final product is both timeless and timely.
While many brands were coping with current events by creating marketing collateral that could expire as circumstances and protocol changed, "Hands of History" is evergreen and presents NC State as a constant in the lives of its Wolfpack. With the exception of one basketball game shot (which appears as the narrator optimistically mentions the future), the subject is alone or several feet from one other person—but not in a way that suggests intentional social distancing. Behind the scenes, the style also eliminated the need for hair and makeup.
The production process for NC State was about as far from cookie-cutter as we could get, and elaborate, full-color storyboards allowed the client to see exactly where we were headed. Safety was always our top priority, but it was also an adventure—a carefully planned, socially distanced quest. As a company, one of our main values is ingenuity, and our Video team definitely lived up to it with this one.
Complete Brand Development
When so much collaboration had to be done remotely, elaborate storyboards that set up each shot clearly communicated the artistic vision and provided reassurance to the client. They didn't hear "It'll look something like this"—they were assured it would look exactly like this. And it did.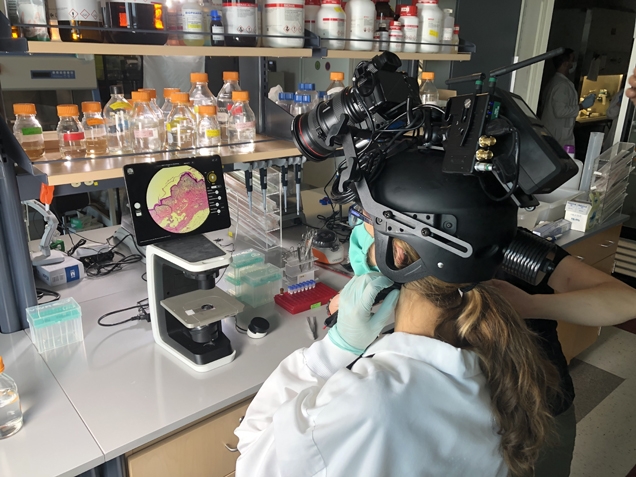 Attention-Grabbing First-Person POV
As the hands seen in the video move through time, planting crops, working in chemistry labs and drafting plans, the perspective inspires, encourages and empowers each viewer to reach their own potential at NC State. A custom helmet rig helped keep shots consistent and maintained a safe distance between cast and crew.
Confident, Progressive Messaging
Engineering, agriculture, life sciences. Historically, NC State excels when it comes to technologies and solutions that propel us into the future. "Hands of History" invoked the passing of time as a reminder to look ahead. The reassuring, enthusiastic and optimistic words combine with bright, inspiring images of future-building to make a powerful statement.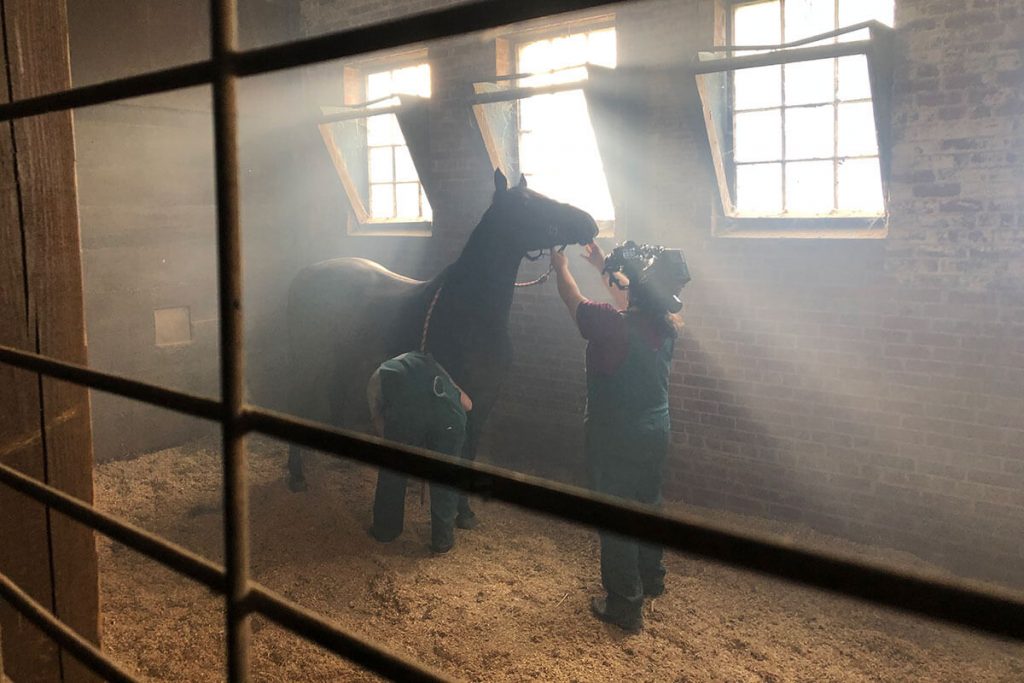 Ahead-of-the-Curve Commitment to Safe Video Production
During pre-production, iostudio's Video team was in uncharted territory. They were committed to producing a top-notch product, and they were determined to do it safely. Behind the scenes on a video shoot, there are typically dozens of people buzzing around. Getting your work done while making sure you're not in the shot—it minimizes personal space. But those typical film set behaviors were not an option.
No other medium engages and converts quite like a powerful video.
In 2018, Hubspot reported that 72 percent of customers would rather learn about a product or service by watching a video. Hubspot's 2021 numbers reveal that 96 percent of consumers watch more video now than they did before the pandemic. You've got something for them to see. Let our Video team help you optimize engagement.