Humanizing a Behavioral Healthcare Brand for Effective Marketing
Operating as a startup, 180 Health Partners had developed an innovative approach to helping expecting mothers who were also substance dependent. They didn't want to bang the drum of "sobriety," which too often clangs with notes of stigma and judgment, but wanted instead to highlight the truth that all expecting mothers want the best possible outcomes for their babies.  
The challenge was finding those expectant, substance-dependent mothers and communicating with them in a non-judgmental manner. 
That's where iostudio came in.
Introducing StrongWell – Redefining Healthcare Branding
A category and competitive analysis revealed that behavioral healthcare and addiction treatment brands looked and sounded similar in terms of messaging, voice and tone. (Envision lots of sentimental taglines, hands holding hearts, and doves flying upward on printed brochures.) Which is fine – except that 180 Health Partners needed to capture the impact of its distinct operational model with distinct branding.
"Give them love, let them know that they are worthy." – a StrongWell Advocate
To understand our target, we conducted one-on-one interviews with women who had overcome their own addictions. From these interviews, we discovered that society often views addicts as weak, but it was at the height of these women's addictions that they were at their strongest because they were fighting a battle without reprieve. 
From this insight, we renamed the program StrongWell. We developed the brand to honor these expecting mothers for their strength, as well as their deepest desire to ensure the best possible outcomes for their children. 
Empowering Aesthetics – Reshaping Healthcare Branding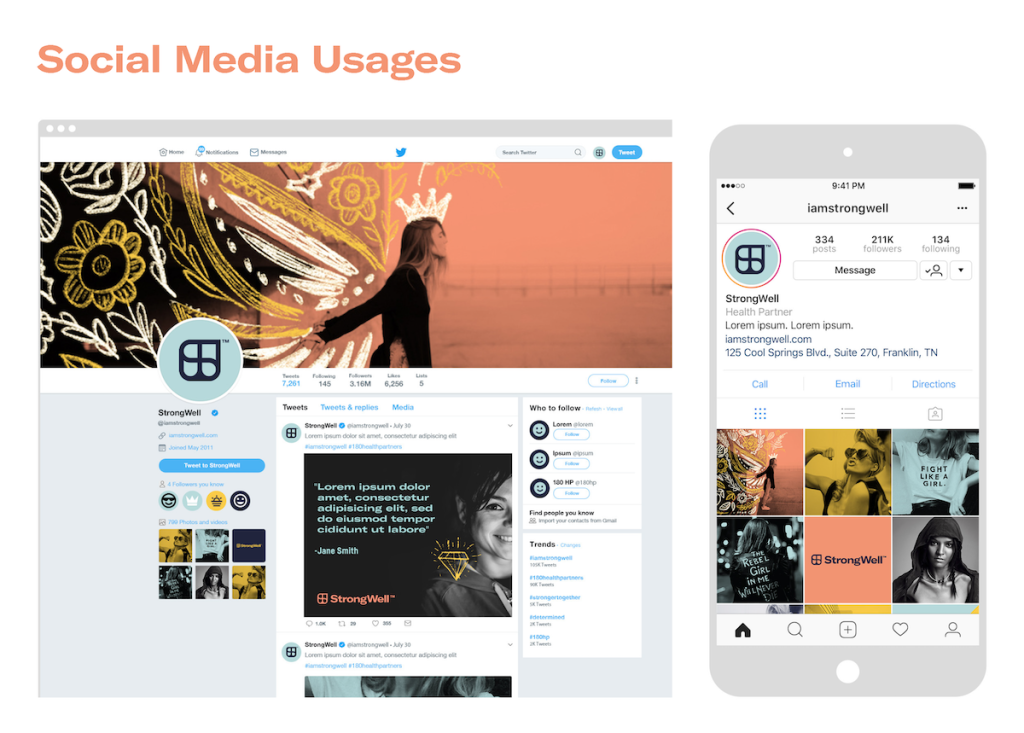 StrongWell Brand Identity
Aesthetically, we used bolder colors, thicker lines, and custom illustrations inspired by some of our favorite tattoo artists. For imagery, we departed from stock photos showing perfectly coiffed mothers holding smiling babies against pristine blue backgrounds. Instead, we captured images of real women and their families.
StrongWell Website 
We designed the StrongWell website to be as straightforward and easy to navigate as possible, acting as a wayfinder to convey how the program could work for any expecting mother. 
Omnichannel Marketing Strategy
To drive accessibility, awareness, and then reduce attrition, we activated the new brand messaging via social and digital channels, including via an app called the StrongWell Community Care App. 
View more about our work on StrongWell in our Portfolio Case Study. 
Successful Outcome Leads to Acquisition
The StrongWell program was so impactful that it was successfully acquired by Mindoula in 2021, allowing it to reach more mothers and ensure better outcomes for babies across the country. 
A Behavioral Healthcare Brand knew to call iostudio for innovative solutions to their brand strategy—now you do, too. We're here to assist you on your journey, connect with us today.