NASHVILLE, Tenn., March 28, 2019 – With nearly one half of its workforce either active or former military, Nashville marketing agency iostudio advanced its commitment to members of the U.S. military by renewing its agreement with the Employer Support of the Guard and Reserve (ESGR).
ESGR, a Department of Defense agency, develops and promotes a culture of support for military employees. iostudio is a multi-year signee to the ESGR agreement and a 2012 recipient of the Secretary of Defense ESGR Freedom Award, the U.S. government's highest recognition of employers supportive of employees who serve in the Guard and Reserve.
"It is with duty and high honor that we're recommitting through ESGR," said Lisa Menck-Shock, president of iostudio, herself an officer in the Army Reserve. "The women and men of our Armed Forces are among the most dedicated employees we've ever hired, and it's crucial they know we are equally loyal to them."
The ESGR Statement of Support formalizes many commitments, including a pledge to protect military employees from discrimination or dismissal resulting from deployment, as established by the Uniformed Services Employment and Reemployment Rights Act. The company also pledges to encourage opportunities to hire Guard members, Reservists and Veterans, and continually recognize and support our country's service members and their families, in peace, in crises and in war.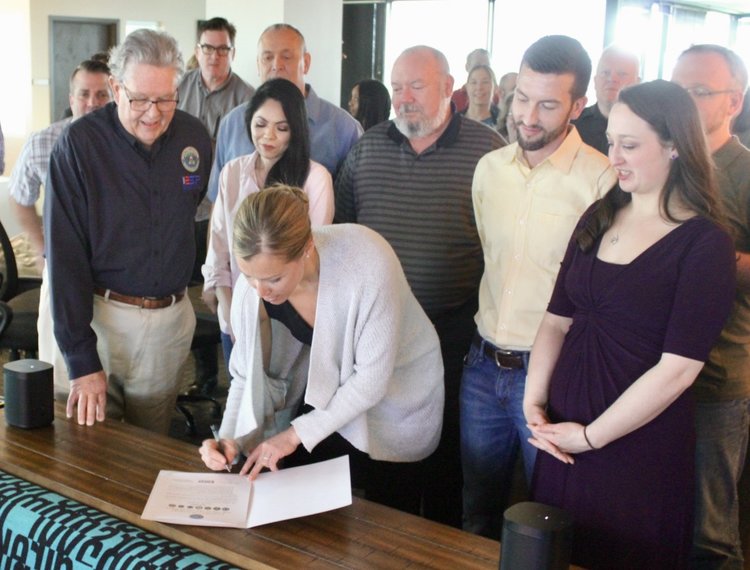 Military work family.
Lisa Menck-Shock, president of iostudio, signs the company's commitment with Employer Support of the Guard and Reserve (ESGR), the Department of Defense program that builds support for active duty military by protecting their jobs and employment rights. She is flanked closely by John Dyess, ESGR's Tennessee Outreach Director, and managers of iostudio's Army National Guard and Navy Contact Center operations.
John Dyess, Employer Outreach Director for ESGR in Tennessee, said he is impressed with iostudio's facility, staff and certainly its exceptional corporate attitude about hiring people with military experience.
iostudio's support of military employees goes above and beyond to include full or differential gap pay for numerous types of military leave (duty). Deployed service men and women can earn significantly less than their civilian positions during deployment; iostudio makes up the difference during those months, so no employee's service hurts them financially.
The Nashville-based company also provides any benefits for which it is lawfully able during employee military leave and allows for military employees to use PTO prior to active duty or following release from active duty beyond what's required by law.
iostudio's 20 years of strategy development, content marketing and platform development has included vast experience with military clients, including the U.S. Army, Marine Corps Forces Special Operations Command and the U.S. Navy. The company's digital and integrated brand solutions also serve national clients in healthcare, financial services, recruiting and retention, government services, and national defense.
The first ESGR Statement of Support was signed on December 13, 1972, in the Office of the Secretary of Defense by the Chairman of the Board of General Motors. President Nixon was the first president to sign a Statement of Support, and in 2005 every federal Cabinet Secretary and all federal agencies signed a Statement of Support to signify their continuing efforts to be model employers.
About ESGR
ESGR informs and educates service members and their civilian employers regarding their rights and responsibilities under the Uniformed Services Employment and Reemployment Rights Act (USERRA). Statutory authority for USERRA resides with the Department of Labor, and ESGR serves as a neutral, free resource to employers and service members. Information on the many resources is available at the organization's official website.