NASHVILLE, Tenn., Jan. 1, 2018 – Marketing agency executive and commissioned military officer Lisa Menck-Shock was named President of iostudio today, launching a new era for the $10 million digital marketing agency.
Menck-Shock, a Major in the Indiana Army National Guard, has been instrumental in growing iostudio's client portfolio and managing internal operations for almost a decade. In her role as agency President, Menck-Shock will direct day-to-day operations while innovating next-level strategies for the company's culture, growth and profitability.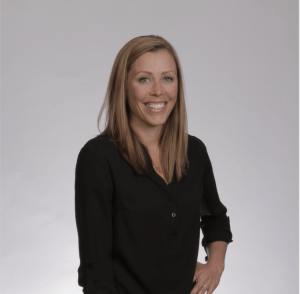 Menck-Shock
promoted to President of Strategy and Operations
"I am a big advocate of hiring from within the military because I've seen first-hand how well military training translates to success in the corporate world," said Mitch Powers, founder and CEO of iostudio. "Combining components of her military training and civilian experience, Lisa offers a perspective to both her employees and clients that is uncommon to traditional creative agencies."
Menck-Shock began her iostudio career in 2006 as a part-time Hero on Call operator, hosting online chats with individuals interested in joining the Army National Guard. Shortly after, she was helping to facilitate the National Guard's move to online enlistment, and eventually worked her way into managing the Guard's recruiting website, the National Guard social media program, a 24-hour customer support call center and all back-end application development.
Almost a decade later, with proven success and experience providing marketing strategies and client solutions on both the agency and client side, Menck-Shock continues to focus on the growth of iostudio. With her strong history of securing and managing multimillion dollar accounts, Menck-Shock assumes operational leadership of the 85-person agency from Powers, who founded the company in 2001.
"Over the last decade, my partners and I have turned numerous opportunities over to Lisa and she's never failed us or our clients," Powers said. "Her leadership and operational skills are second to none, but it is her vision for the future of iostudio that sealed the deal. I expect the agency will continue to find new levels of excellence with Lisa in this role."
In addition to her executive agency role, Menck-Shock has experience as an emergency medical technician (EMT) and ophthalmology technician in both the military and civilian sector. She is trained and experienced in medical logistics, planning, operations and patient care, and has served an administrative role as Commander for a unit providing statewide medical support.