A lot of mainstream publications are skewing toward a very straightforward Table of Contents (ToC). They go like this: Here's a picture, and here's a story. Boringgg. At iostudio, we don't just give these pages as much effort as our in-book pages—we give them more, for a couple reasons. First, the ToC will live on, issue after issue. Second, ToCs do some obvious things that are very important, like setting tone and giving readers a roadmap for what they should read.
Print will never die. But it is changing. One way magazines are adapting to their current competitive climate is to show love to pages that in the past would be throwaways. Here, we look at one of these—the Table of Contents.
More important, with a ToC you're telling readers why they should care about you, and what they should think about your magazine. Do you want your readers to think your magazine is artsy? Clever? Nerdy? Funny? Be that thing in the ToC. Steve Martin has said that a comedian who says hello to an audience has already lost, because they've wasted the very most important moment of their act—the first impression. Sure, lots of magazine readers will skip the front and flip through your book looking for pretty pictures. But for a big chunk, the ToC will be your precious first chance to leave a great first impression.
Senior art director Dustin McNeal knows how to craft great first impressions. In the 2016 Folio Awards, the design team he led won an award for best Table of Contents for custom publications with six or more issues per year (for GX: The Guard Experience). To get some insight into his creative process, we asked him to pick a few of his favorite ToCs and tell us why he loves them. Here's what he had to say:
The Washingtonian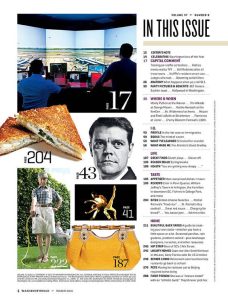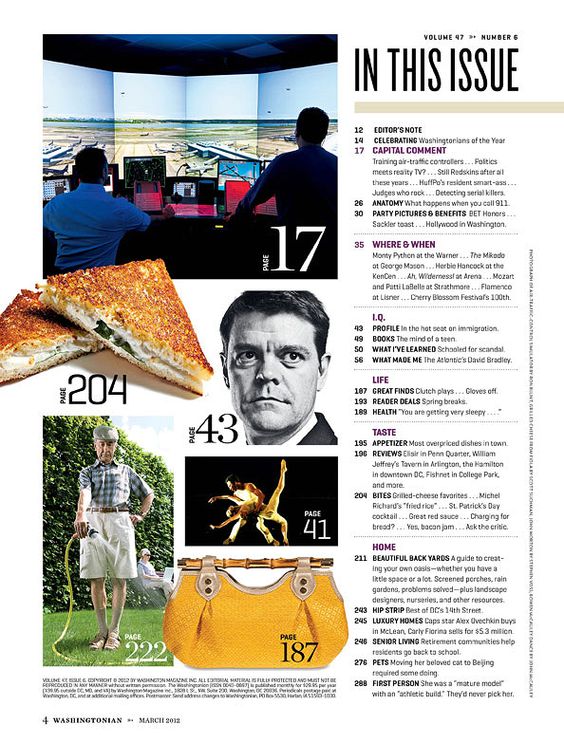 "One standout version of the list/image ToC for me came out of the redesign that Metaleap Creative did for the Washingtonian. I think between 2010 and 2014 was the golden age of ToC design. I don't know if it was because everyone figured they had to bring audiences back to print from whatever digital thing they had gone to or what. Or with so many magazines shutting down, maybe certain companies were able to grab a lot of the top talent. (Just a guess.)"
On how the Washingtonian inspired his work: "It has a super straightforward column of text. ToCs are what they are. Can it be beautiful? Yes. Can it be functional? Yes. But in the grand scheme of things, people just need to know where things are. They just have a column that lists out where all of the stories are, and they pair it with an image column to provide the artistry. You have photography, portraiture, and objects. That variety—and the little tease that comes with it—makes things a little more interesting to keep people's attention on the page. Maybe I AM curious about those stories!"
Takeaway: You can't sacrifice function for fantasy. The image column alone would be beautiful but impossible to use. The text column alone would be boring. Together, the ToC is usable and beautiful.
Bloomberg Business Week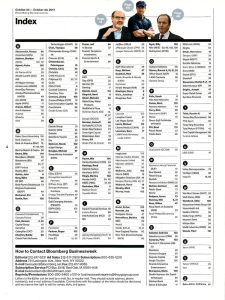 "Bloomberg—they used to be on it. They were taking risks, and there were fun things going on. And in reality, they have a fairly unimaginative ToC. But what I love about this example is that they have an index that runs right behind the ToC. This index is alphabetized and lists everything. If there are companies that you follow, you could go to the index and check very quickly whether that company, or personality, is in the magazine. I thought it was a great way to tailor something to their business-minded audience. So if hyper-focused readers are wondering what Bloomberg has to say about what they're interested in, they can find it immediately."
Takeaway: Explore out-of-the-box designs, but always keep in mind that your first goal should be to give your readers what they need. That includes a roadmap to content they're interested in.
Esquire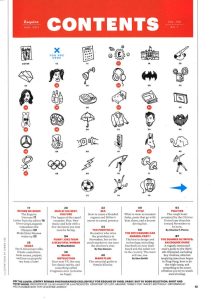 "Esquire, around the time of this ToC, was also chasing the idea of using ToCs as art pieces. They did a great job of keeping things fun, always changing things up. I thought this execution, where they're using these simple illustrations, makes me stop and notice: What does a shower head have to do with a story? And because there's a number listed for every doodle, I also have my reading roadmap. Then they used the red circles around the number to connote importance very simply. The doodle concept wasn't just engaging, it was also useful."
Takeaway: Your ToC doesn't have to be literal. With the doodles, Esquire introduced interest-driving whimsy, but balanced that with functional steering clues.
Popular Science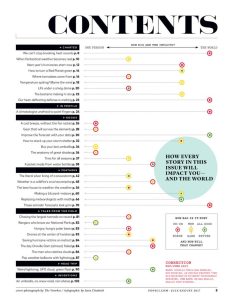 "Recently, Popular Science got a new editor in chief, who is all about the themed issue. From water scarcity to oil/power to climate change, they create an infographic for each one of their ToCs that relates to the theme. So you have all the stories listed out, but then you have a matrix that measures different things. Here, on one axis you have a graph for how much impact each article topic has on the world. Then they have color-coding to tell you 'Uh-oh' is red, 'All good' is green. And the interior dot tells you how the topic's status will change over the next few years. The data tells a story without being doom and gloom—it just presents the information in a way that people can relate to. They've also done this with the state of water in the world. This might not work with magazines that aren't themed issues, but for PopSci, it's perfect."
Takeaway: PopSci is a perfect example of how a ToC can transcend its stated purpose of describing contents—instead serving as a beautiful thing unto itself.
The last word
These companies are all trying things. They're taking chances, building beautiful things out of otherwise throwaway pages. While the Washingtonian is going classic but artsy, PopSci is using high concepts to speak to its audience. Esquire's illustrations are the great tease, and Bloomberg's index is all business. All approaches direct you to content in the magazine. All add value to the magazine—not just because they're great ToCs, but because they're very simply great pages. In the end, that might be the best advice of all—build great pages.